Malaysia
RUBBER GLOVES
Manufacturing Company
We believe that human hands are unique and workers need to have peace of mind when carrying out their work.
Thus for the past 30 years, we have dedicated ourselves to making high-quality reusable gloves that are great for protecting human hands and far more environmentally friendly than disposable gloves.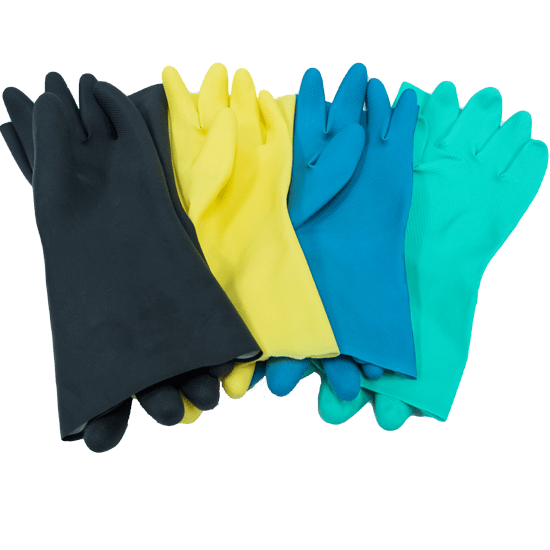 Establish Your Own Rubber Gloves Brand Easily
With access to direct manufacturers and our 30 years of experience in this business, you can fully customize your product to meet your specific business needs and receive higher profit margins.

Quality Assurance
Our immense attention throughout our 6 inspection points, from raw material to finished goods, ensure the consistency and high quality of our products. Rest assured you will be content with the touch of premium quality.
Boost Your Business With A More Efficient Procurement Strategy
We understand that having a reliable supply chain that can fulfill even the largest orders within the stipulated time ensures your business runs smoothly all the time. It's no wonder that 90% of our customers are satisfied with our delivery service!
We believe a glove is not just a glove. It is a product made for humans. It is about protecting life. As a result, we place great emphasis on the details – from research, to raw material selection, development, production, shipment, and to you. Whether you already have an established rubber gloves brand or just kickstarting your own rubber gloves business, we have readily available business strategies to suit your needs.
Large 

Distributor
Are you looking for a reliable partner to supply high quality gloves?
Do you have your established rubber gloves brand?
I import gloves from worldwide
Small/New
Business Owners
Are you sourcing from the distributor from your own country all this while?
Do you want to kickstart your own gloves business?
I import gloves for the first time.
Our Capabilities Empower You To Stay Ahead Of Your Competitors
With the latest high quality protection products specifically made for the workplace and home, 80% of our key customers stay with us for more than 8 years.
Ergonomic Design
Rubber gloves designed for comfort and durability to accommodate specific tasks and environments.
Quality Assurance
High quality products that comply with US FDA CFR21 Part 177.2600 & EC Regulation No. 1935/2004 for food contact application.

Customisation
Customised packaging designs to suit your business and branding needs
Routes to Market
We have helped over 185 clients like you to export in over 50 countries.
Wide variations
A wide variety of house brands and OEM products at affordable prices.

Efficient Delivery
Excellent time delivery. Our current gloves production exceeds 30 million pairs per annum.
Explore Our Products Range
An extensive range of reusable and certified rubber glove products made with responsible and sustainable business practices.
Creating Responsible Value Chains For Your Business
We believe that all businesses must operate in a socially responsible manner to be sustainable. We believe that all businesses must operate in a socially responsible manner to be sustainable. 
Since March 2018, we have been a member of SEDEX (The Supplier Ethical Data Exchange) and our operations fully complies with SMETA (Sedex Members Trade Audit) – a highly regarded standard covering labour, health and safety, environment and business ethics.
Let Our Clients Tell You Why They Choose Us
"Experienced and reliable glove company. Products comply with necessary standard and certification."
Purchasing and Quality Department
Very good product quality, excellent company service and personal attention
We have been working with Nastah Industries since 2012 and have been very satisfied with their product and services. If you are looking for a reliable partner in hand protection, look no further than Nastah.
For us your product/ service quality is good. Stay like this.
Bunzl Distribution USA Inc.
Manager of International Procurement
No complaint in the past 2 years, respond very quickly.
Sales Agent for South and Central America
Nastah Industries showed very professional know-how relating gloves production. Support and goodwill is also excellent.
Vietnam 3TK Equipment Joint Stock Company
Thanks Nastah for the great support to 3TK all the time. Mr.Alan is doing so well, nothing to complain.
Ask An Expert
Speak to one of our staff for a quick consultation on which option is best suited to you.