What are private label products?
Sometimes referred as OEM (Original Equipment Manufacturer) products, private label products are items manufactured by a third-party manufacturer, and sold under a retailer's brand name. As a retailer, you can specify everything about the products, including the specifications of the products, how it is packaged, and how your label looks like on the products etc.
Private label products can be profitable for your store, if done right, not only it can give your store additional product lines to sell, but also helps in increasing the credibility and trust of your store.
If you, as a retailer or brand owner, have considered offering a line of private label range products, it helps to become more familiar with the pros and cons as you work through the process.
What are the advantages of private labeling?
Brand control

With private labeling, you are able to add your own branding to the products that OEM manufacturers produce for you.

You can either have your own design, or request for the design service from in-house graphic designer from your contract manufacturers.

In most cases, you'll be able to control the packaging of the product in the exact way of how you want it to be presented in your retail store, eg. in a single pack or double pack packaging, header card packaging, box packaging or even pre-load those items in a display rack for the convenience of your workers when displaying the items.
Ability to compete in the marketplace

By engaging with third-party manufacturer, you can request to modify their products so that they can be unique to your retail store, which makes it more viable for you to stand out from your competitors.

You will pay less for private label products in comparison to branded products, while being able to sell them at or around the same price as comparable branded products. You are being competitive and profitable at the same time.
Building a loyal customer base

Since those products can be uniquely made for your brand, you have the ability to stand out from your competitors and build a loyal customer base around your brand.

If your customer loves your private-labeled products, they will want more and the only place they can purchase them is in your store.

This is one of the way to keep your customers returning time and again.Unlike wholesaling, you are often just selling other brands in your retail store and customers could likely purchase those other brands elsewhere.
What are the potential disadvantages of private labeling?
Dead inventory:

If you order a line of private label products without analyzing your customers' demands, you could make a bad decision and have a hard time selling through your inventory.

With branded merchandise, you can get a return authorization, but you won't be able to return private label goods and might have to reduce the prices drastically to move the sales of your private label products.
MOQ (Minimum order quantity):

In most cases, manufacturers would require a minimum quantity for each order before they will consider customizing products to fit your private label requirements.

Often, this is a much larger quantity and you need to be creative when placing your order, eg. ordering different colors or sizes of the same item to meet the MOQ.
Customer perception

Historically, retailers haven't heavily marketed on their private labels products. They have traditionally relied on price and shelf placement to drive purchase.

Customers' first impressions of many private labels are influenced largely by what they see on store shelves—and from there, many retailers fail to make much of a good impression, and might assume that private label products are of lower quality than branded products of which they are familiar with.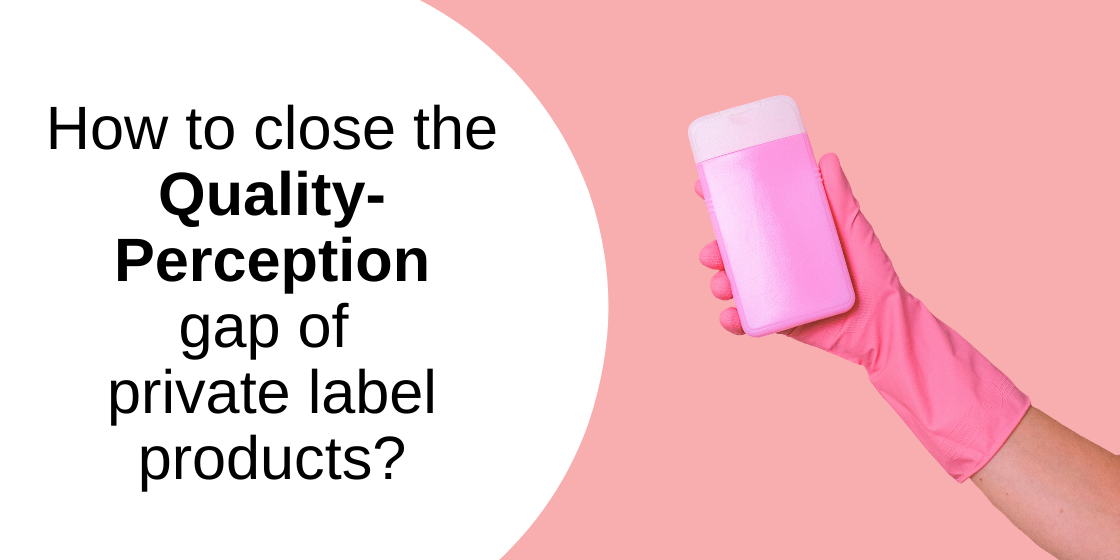 Well, here are some suggestions to close the quality-perception gap:
1. Research your target audiences
Try to perform in depth research on your target audiences, knowing their preferences and needs, and create the brand and appearance for your private label product lines that matches the quality level in comparison with other familiar branded product lines.
2. Tell your brand story
Communicate the story behind your brand i.e. how the brand source the ingredients, where the products are made or what kind of certifications that your products had acquired etc.
Nowadays, many retailers use cost effective channels such as social media or online stores to communicate their private label brands story, this might helps in closing the quality-perception gap that many private labels face.
3. Show your product and brand differentiation:
Utilize the design of product packaging to draw attention to the consumers with your brand language and convey the functional benefits of the items to differentiate your private label brands from other branded names.
If private label strategy is done right, it can be a great advantage for your retail store and your brand. Start slow, and ease into it by testing with one or two products versus a whole line of items.
For your first few products, take note of which branded items are your best sellers in your retail store.
For example, if you sell a variety of gloves, find out the gap of the demands and get a gloves supplier who can create a similar item, add your own twist to the design such as offering bigger size to target your male audiences, offering new color to broaden the choice, or package it into an economic two pair pack, and have a label created with your own unique brand.
How to find reliable private label gloves manufacturer?
At this point, if you are looking at expanding your private label brands with gloves products, here are something that we would want to share with you: Ever since the outbreak of COVID-19, there are a lot of scams and frauds related to gloves products.
We have previously wrote about on how to choose a reliable gloves manufacturers for your business, take a look here. If you are focusing your search in Malaysia, you might find this article helpful.
We hope you enjoy this article and feel free to share it with your friends!