Food processing industries involve a large number of workers who handle raw food. They cut and slice the raw food before packaging and selling them in the market.
In a high-hazard environment, the use of food processing gloves is essential, not only for the hand protection of workers but also to keep the food safe during processing.
However, how well do you understand food processing?
Do you know which kind of gloves can serve their purpose?
In this article, we will discuss a few sectors on how you can choose the right glove for food processing.
Understanding Different Food Processing Types
Seafood Processing (Fish, Crab, Oyster, Lobster)
There are dozens of seafood industries engaged in primary and secondary food processing.
In lobster processing industries, workers require sturdy food processing gloves to peel lobsters.
Without such gloves, the hour-long task of peeling can cause significant damage to workers' hands. Thick and durable gloves not only protect the workers but also keep the processed lobster in a hygienic environment.
Fish processing involves several procedures, posing risks to food processing workers' hands.
This includes washing, cleaning, de-heading, de-boning, de-skinning, filleting, and slicing to get the required dimension before the fish are ready for sale in the marketplace.
During these processes, food processing workers' hands are at risk. Cuts and punctures by fish bones or fins are the common risks that happen in fish processing.
Therefore, it is crucial to wear a good pair of high-quality industrial gloves as this can serve as the first line of defense against potential hazards.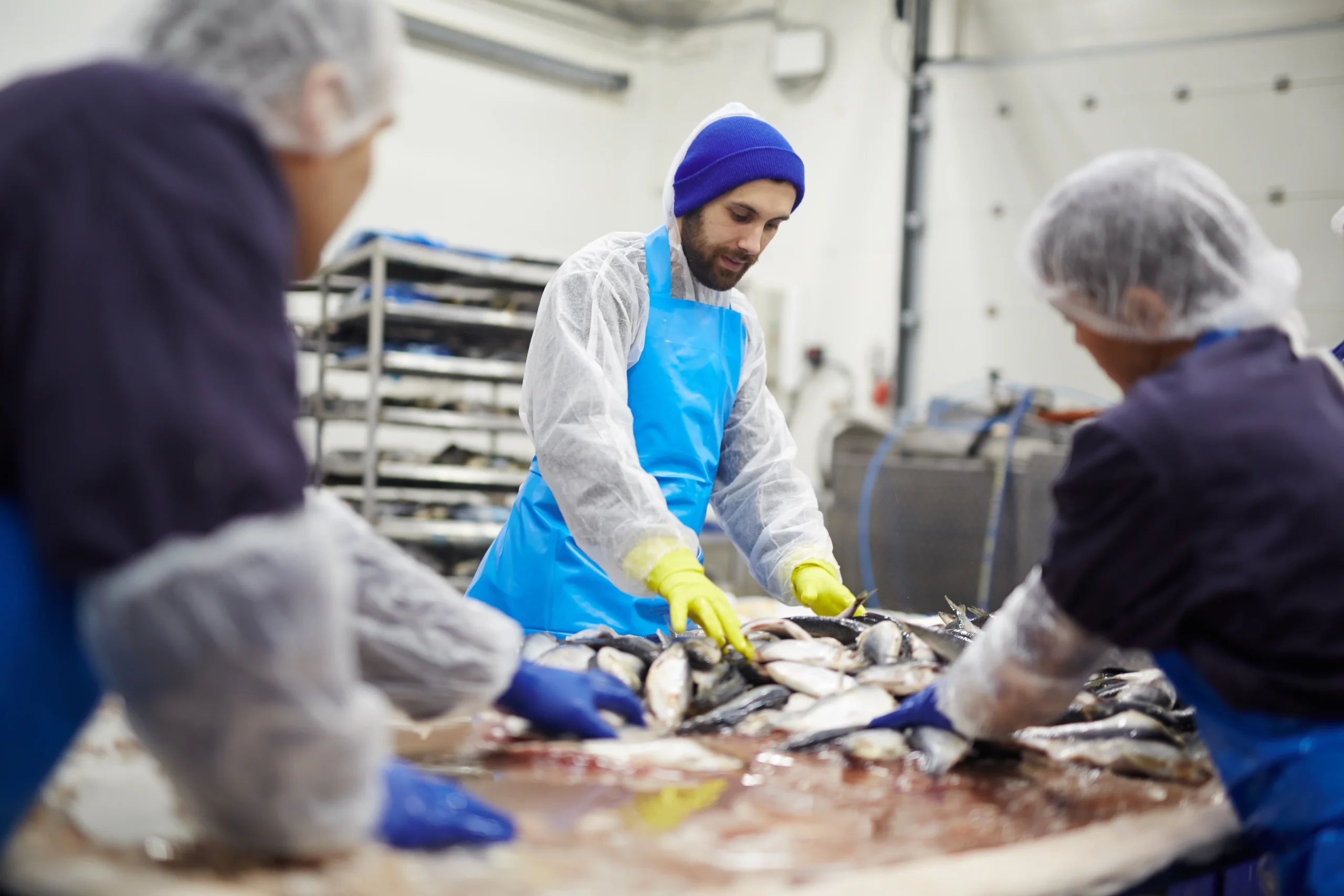 Group of seafood processing staff working with fresh sardines in the plant.
Meat Processing (Chicken, Beef, Ducks, Pork)
Food processing workers in slaughterhouses put their hands at risk while processing poultry and meats.
According to the report from EHS Today, poultry and meat processing industries rank 12th for the highest number of severe injuries among all industries.
Hand cuts rank above other severe injuries. Thus, a good pair of quality gloves can protect food processing workers from involving in potential hand-cut hazards.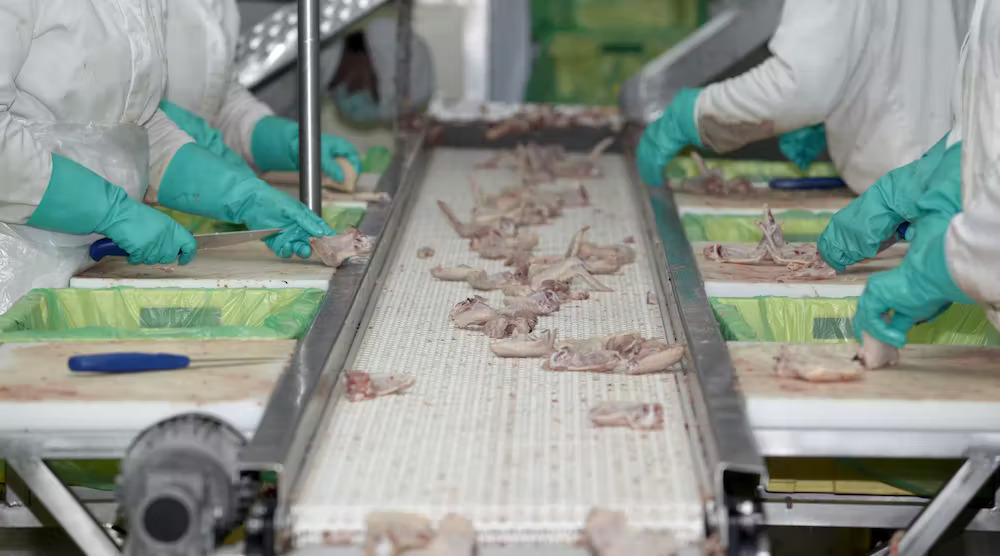 Plant Processing (Aloe Vera)
Aloe vera processing involves harvesting, washing, slicing, and extracting the gel from the leaves.
While aloe vera is generally safe, its sap can cause skin irritation, allergic reactions, and chemical burns.
Workers in the aloe vera industry are at risk of being exposed to these hazards, especially during the harvesting and processing stages. Therefore, wearing food processing gloves is a must to prevent direct contact with the sap and other potential contaminants.
Nevertheless, wearing gloves can also help to maintain hygiene in the processing environment and prevent cross-contamination of the final product, ensuring the safety of aloe vera gel users.
Exploring Glove Material Options
In order for you to choose suitable gloves for food processing applications, the types of glove materials have to consider.
The most common material that can apply in the food processing industry is natural latex and nitrile industrial gloves.
Natural Rubber Gloves For Food Processing
Natural rubber gloves offer superior flexibility and comfort for food processing workers who require long hours of glove-wearing during various tasks, such as to cut, peel, slice, dice, and packing on raw food.
The good tactile sensitivity and softness of natural rubber gloves allow workers free from fatigue issues due to long hours of wearing gloves.
NUL1 is a popular choice for natural rubber food processing gloves.
Are Nitrile Gloves Food Safe?
Nitrile is a synthetic material composed of acrylonitrile, butadiene, and carboxylic acid, which is safe and suitable as food processing gloves.
The latex-free properties of nitrile latex make it a good choice as an alternative to natural latex gloves. Glove users are worry-free from Type I allergy issues.
The acrylonitrile content provides stronger tensile strength, and higher abrasion and puncture resistance. The chemical resistance of nitrile gloves is better than latex gloves and it provides better hand protection from oil, grease, and other potential hazards.
Nastah's NU1113 is a popular nitrile food processing glove.
Ensuring Chemical Resistance for Food Processing Gloves
For all types of gloves that you are going to use in the food processing industries, you are required to understand the chemical resistance.
A good pair of gloves provide better hand protection from any acidic, alkaline, or alcohols that splash on the hand.
For example, food processing industries use hydrochloric acid (HCl) to produce corn syrups, cereals, starch-based products, and food preservatives, which require a chemical-resistant industrial glove to get the job done.
In order to keep the food processing worker's hands safe, the gloves must comply with regulations to make sure it is safe. The food safety glove regulations are separated into two parts, which are FDA and EC-approved. Find out more on 7 criteria to choose gloves for food handling.
Nevertheless, the food processing glove should also comply with EN 374 Chemical Permeation Test. The chemical permeation test is conducted to understand how long it requires for a chemical to penetrate through the glove to our skin. The permeation-tested glove will have a logo as shown below:
Importance of Glove Internal Lining
The internal lining of a glove is where your hand goes in.
In most cases, the unlined glove is a better choice as compared to flock lining. This is mainly because the flock will tend to contaminate the food that was being handled.
Benefits of Unlined Gloves in Food Processing
Unlined gloves undergo a chlorination process for easier wearing. The absence of any flock and other foreign materials keeps good hygiene in food processing. 
Nastah UL1 Unlined Natural Rubber Gloves
Limitations of Flocklined Gloves in Food Processing Industries
The internal layer of flocklined gloves is coated with a layer of the flock for easy wearing. It is not very favorable to use it in food processing industries because the flock fiber will contaminate the food.
Nastah Flocklined Natural Rubber Glove
Choosing Food Processing Gloves Based on Their Grip Strength
The glove grip is a crucial factor when choosing food processing gloves. This will determine whether you are having a good or bad time during the raw food handling process.
For example, a glove with a diamond texture can boost the gripping of slippery raw food.
If you can imagine that you are cutting a salmon fish, you need a firm grip to grab onto the slippery skin so that you can debone it. You will also need strong contact with the salmon fillet so that you can easily deskinning the salmon as well.
Matching Gloves to Specific Food Processing Needs
Types of food processing industries

Seafood

Meat

Plants

Natural Rubber Gloves

+ Superb flexibility

– Might cause allergy issues if workers have sensitive skin

+ Superior comfort & flexibility

– Potentially animal fats transmission to gloves

+ Excellent dexterity

– Low puncture resistance

Nitrile Gloves

+ Superior puncture resistance

+ Protein-free gloves

+ Good puncture resistance

+ Supreme abrasion resistance

+ Good abrasion resistance and puncture resistance.

+ High durability and protect workers from thorns puncturing on skin.
Did You Know?
Animal fat migration is one of the important factors in the types of gloves to be used in the food processing industries.
If you are handling meat that contains animal fats, take note that there is a tendency for the fats tend to migrate in NATURAL LATEX and contaminate the gloves.
For a safer option, an Unlined nitrile glove will be a better choice for the job.
About Nastah
With more than 35 years of reusable glove manufacturing experience, Nastah has worked together with customers from different sectors to understand their needs. We are committed to producing high-quality reusable gloves that protect human hands.
If you wish to further understand more about our products, feel free to speak with our expert.